Regulator and Feedback Filters Blocks
As new designed electronic regulators in most cases are instable, phase correction networks must be used to reduce negative loop phase to reduce oscillation. Often a very small circuit will do the job, but some regulators, as noise free Phase Look Loops, need a complicated electronic filter network, to be stable and reduce noise. In this chapter several simple and complicated loop filters are shown. The shown circuits I have used for years in many feedback circuits to optimize stability and time behavior. Some of this circuits are well known, others are not.
The definition of a regulator block transfer is defined as:

.(or M(s))
The given formulas itself are first or second order types:
Description of Regulator Blocks can be found in this Site at:
--------------------------------------------------------------------------------------------------
#1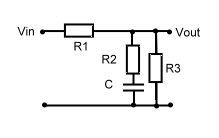 Filter Block : Low pass-Circuit with load.
This Circuit may be used, to stabilize a regulator and decrease regulators speed.
The Transfer is :
Fig.1 Low pass Circuit with load
#2 Filter Block : low Pass Circuit and OP-AMP
This circuit may be used, to stabilize a regulator and decrease regulators speed. The transfer is :
Fig.2 Integrating Circuit and OP-AMP.
#3 Filter Block : First Order High Pass-Circuit
This high pass circuit may be used, to optimize regulator speed and time behavior
Fig.1 Differentiating circuit equations
Fig.3 High pass (D) circuit
#4 Filter Block : Second Order High pass-Circuit
This differential circuit (D) may be used, to optimize a regulators speed and time behavior. It also can be used as an RF-roll off --linearizing circuit.
Fig.1 Second Order High pass equation
Fig.2 Second Order High pass circuit
#5 Filter Block: Regulator Behavior Optimizing Circuit
This is the classical circuit to optimize regulator time behavior for industrial process regulators.
(PI D types). As high pass and low pass behavior of a loop filter can not optimize a regulators time behavior and regulation quality, the loop must have an integration behavior, what means one pole at zero F( s ) = 1 / (s) .Whereas the D part may be realized by means of a simple highpas.
Now look at circuit of fig 1. The DC: gain goes to infinite, the D part is realized using C2 and the I part is realized by means of C1.
Fig.1 Loop filter for regulator PID optimization
The transfer formula is:
Index v refers to the

D

part
Index n refers to the

I

part
#11 Filter Block : Positive phase circuit and Roll off circuit for digital Modulators
Filters in digital modulators must have an roll off and a gain overswing.The circuit of Fig.1 can realize roll off and overswing. As both corner frequencies are equal, it also can be used to produce positive phase in a regulator feedback. The earning of positive phase is the result of different damping factors.
The transfer formula is:
Fig.1 Formula for digital modulator filter
Fig.2 circuit for digital modulator filter
#12 Filter Block : Phase correction circuit for linear voltage regulators
As today's power transistors are very fast., the loop gain of linear transistor voltage regulators decreases very fast at high frequencies. (More than -40 dB/ Dek.) The result is high frequency oscillation of a simple voltage regulator. A phase correction network must be used therefore.To get stability, the feedback gain must be decreased, by means of an -20dB/Dek slope, until stability is reached. Fig 1 shows the classical circuit. It is important, that the supply voltage is blocked for higher frequencies [MHz range].
The transfer is :
Fig.1 Phase correction circuit for linear voltage regulators
#13 Filter Block: Loop Filters for Phase Look Loops
The kind of a filter to be used in a PLL Loop, depends on the requirement of the PLL. Therefore PLL- filters may either be very simple or complicated. Certainly their transfer is not the transfer of the closed PLL loop. PLL filters may be sorted as follows:
Kinds of PLL- loop -filters:
As phase look loops are used in different applications, their loop filters are different. general there are:
1 Order Filter

2 Order Filter

3 Order Filter

High order filter for PLL-oscillators.

High order Filters for PLL-demodulators
First order PLL loop filter
Fig 1 shows the loop filter for the seldom used first order PLL. The Transfer equation is:
Fig.1 First order PLL loop filter
Second order PPL loop filter
Fig 2 shows the standard loop filter used in a second order loop.Theoretically the low pass consisting of C1 and R1 theoretically is not necessary, but practically, high frequency spikes from digital circuits must be decreased to not latch the OP-AMP. If the OP-AMP is t10 times faster as the maximum loop frequency, the transfer equation becomes: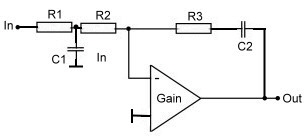 Fig.2 Second order PLL loop filter
For further readings look to : Microwaves May 1985 p 122
As we can see, the OP-AMP for this filter works with maximum Gain, not having a feedback resistor.This leads to minimum output frequency deviation .. But unfortunately, RF OP-AMPs, need a limitation of Gain using a feedback resistor Fig.3. Under this condition, the second order loop filter- transfer becomes only :

Unter this condition ,the regulator is not optimized.
Fig.2 Loop filter with fixed OP-gain
Third order PLL loop filter
The third order PLL loop filter is almost the same as for a second order filter. Fig.3 .
The Transfer is :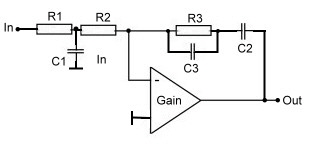 Fig 4 Third order PLL loop filter
For further readings look to : Electronic Design May 197?
PLL Oscillator loop filter
To reject unwanted signals in PLL oscillators, a complex loop filter is necessary. Especially if the Oscillator is used as signal source in digital communications, jittering of bits must be prevented.
Fig.5. shoes a filter circuit to realize a clean PLL oscillator. Its an example of series connection of multiplying transfer of regulator blocks.

Fig.5 Loop Filter for a PLL main Oscillator for digital communication
The transfer formula is:

Further readings and explaining :
PLL Demodulator loop filter
PLL's at FM-Demodulators have to be very broadbanded. A use full filter to gain stability at high frequencies is shone in Fig,.6. The filter transfer is :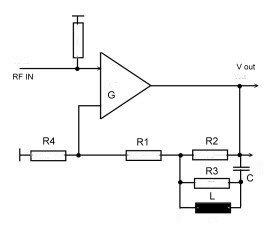 Fig.6 Loop filter for PLL FM Demodulators
Further readings:
United States Patent 3,611,168 F.Haggai Threshold Extention Phase Look Loop, 1971
#14 Filter Block's using RF OP-AMP's
As it was clear, if the OP- AMP has a much higher upper frequency limit than the working frequency, the transfer of the shown circuits behaves like its equations. Yet at RF frequencies, one always are working on the upper frequency limit of OP-AMP's. Therefore, classical active Filters, will not work proberly. But in case of no filter circuit elements in the feedback of an OP -AMP, only the roll off of the amplifier, may decrease the filter behavior.
Here are several Filters useful at RF frequencies:
Second Order Low Pass
One could think, that the circuit of Fig.1 is a only a low pass, but its an quadratic high pass at the same corner frequency than the low pass , having an other damping. The values of the resistors are responsible for the difference of the dampings. Fig.2
Fig.1 Low Pass on RF OP-AMP
Fig.2 Transfer of the circuit at Fig.1
High Pass and Low Pass
This circuit may be used as high or low pass circuit to correct the loop gain of a regulator.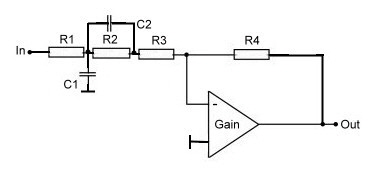 Fig.2 Phase Correction network on a RF OP-AMP
The transfer is: